Mixlings in Time: Time Warped
Paperback and e-book available now on Amazon.com
Time travel. Morphing. Adventure.
Three animal heroes, Cicero the flying squirrel, Mendel the armadillo, and Emerson, the ferret, join together and travel back in time, searching for special plants that are extinct in their time. All to save the forests of the future.
They get more than they bargained for when they land in the past, 'reconfigured' by the time machine's molecule mixer, and become Mixlings in Time: Time Warped.

You don't need a Kindle to read the e-book! Kindle App is free and lets you read Kindle books on your iOS, Android, Mac and Windows computer. DOWNLOAD iOS, Android, MAC and PC Kindle APP from AMAZON Here!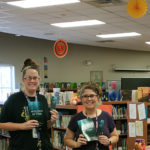 Review from Tonja, Library Media Specialist at Arbor Ridge School:
We were so excited to have the authors of Mixlings in Time: Time Warped present their book to our students at Teach-In! They really loved the presentation, seeing the website and especially singing along with the songs. The authors also came to our Barnes and Noble Book Fair where students could meet them individually and speak to them about writing, and of course get their own autographed copy of the book! We'd love to have them back again for another author visit to our school!
Write your book review below!
No email or other information is sold to anyone. This is just for the Mixlings. Mendel promises!

Mixlings in Time - Time Warped
Average rating:
61 reviews
Feb 1, 2020
Great for teaching
I teach 5th grade and my students absolutely loved this book. My lesson plans were easy to formulate as there is so much material in this book. It even covers character education, a new requirement. I would highly recommend to other teachers.
Jan 28, 2020
Great
great book, fun characters, great story
Jan 20, 2020
Great animals
My two boys really got into the book and the " I will get you song" on the website. Great idea to have a book with songs.
Jan 16, 2020
Love this book!
Read this book to my kids (ages 9 and 11) and the loved it! Was hard to put down, and the lessons were excellent. Would highly recommend.
Jan 13, 2020
I love it
This is a great book for kids. Teaches about environmentalism, affirmation of self, fun time travel, different animals and interesting plants. Would be excellent as a teaching tool in classrooms. Would highly recommend!
Jan 9, 2020
Emerson.
I love Emerson. This cute animal has the voice of my favorite person.
Dec 26, 2019
Excellent!
Really like the adventures of these three animals. They are unique.
Dec 9, 2019
Fun to read
Fun to read. Wish it was longer and wondering if there will be another book to keep telling what happened.
Dec 8, 2019
bought the book and ebook
this is a wonderful book for kids of all ages. very interesting story and the characters are interesting. my kids love it !
Dec 7, 2019
Armadoon!
I like the armadoon best. He is very good keeping the group together. fun book