You don't need a Kindle to read the e-book
Kindle App is free and lets you read Kindle books on your iOS, Android, Mac and Windows computer DOWNLOAD iOS, Android, MAC and PC Kindle APP from AMAZON Here!
Three animal heroes, Cicero the flying squirrel, Mendel the armadillo, and Emerson, the ferret, join together and travel back in time, searching for special plants that are extinct in their time, to save the forests of the future. They get more than they bargained for when they land in the past, 'reconfigured' by the time machine's molecule mixer, and become Mixlings in Time: Time Warped.

AudioBook Review by Audible customers – Excellent !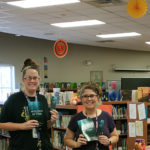 Review from Tonja, Library Media Specialist at Arbor Ridge School in Orlando, Florida:
We were so excited to have the authors of Mixlings in Time: Time Warped present their book to our students at Teach-In. They really loved the presentation, website and especially singing along with the songs. The authors also came to our Barnes and Noble Book Fair where students could meet them individually and speak to them about writing, and of course get their own autographed copy of the book. We'd love to have them back again for another author visit to our school.
---
Mixlings in Time Book reviews:
Mixlings in Time - Time Warped
Average rating:
67 reviews
Apr 21, 2021
Love Al the Tiny Owl
So glad Al the owl met the mixlings and they saved him. He is so cute!
Feb 15, 2021
I like it!
This is a really good story about animals doing time travel and how they get mixed up when they go. I like Mendel because he is an armadilo. My friend likes Emerson cause he likes donuts.
Dec 8, 2020
It rocks!
This book rocks! The animals try to save the dying forests and go back in time but get changed into something else - wow! I like the book.
Dec 2, 2020
Ranger Jake
I liked that the ranger was named after me...hahaha. The forests are important and the animals try to help save them. I liked the book.
Nov 13, 2020
I love it
This is a great book for kids. Teaches about environmentalism, affirmation of self, fun time travel, different animals and interesting plants. Would be excellent as a teaching tool in classrooms. Would highly recommend!
Oct 28, 2020
Great
great book, fun characters, great story
Sep 28, 2020
Bought for the Kids - Love It!
Bought this for my kids who are 9 and 11 (boy and girl). They both loved the story and especially the characters. I liked it because it shows the animals trying to save the forests and also because it shows kids to be true to themselves, no matter how they've changed. I would highly recommend and would like to know when or if toys are coming out! This would make a great movie! Thanks.
Aug 12, 2020
Fun book!
This is a fun book. Really liked the characters and the whole story.
Thanks, Heather. We're glad you liked the book!
Apr 18, 2020
WOW
great start at the beginning. made me want to read the rest. liked the whole story.
Apr 2, 2020
loved the songs
The evil Vermone song was great. Really liked the book and the story. We have to save our forests now!